Best Things To Do In Chiba prefecture Japan
Updated February 14th, 2021. Original: October 7th, 2019, Posted by travelwith2ofus

Tweet

🔽 DEAL ALERT!
Get up to 20% off selected Chiba, Japan hotels!


If you're visiting Tokyo for business or to vacation, there are so many fascinating places to see in the cities surrounding Japan's capital.


Chiba is one of those places. Chiba Prefecture is located approximately 25 miles from Tokyo. It encompasses the eastern outskirts of Tokyo as well as the rural Bōsō Peninsula.

Chiba Prefecture is also home to one of the two international airports. the Narita International Airport (成田空港, Narita Kūkō, NRT) is located in Narita and it handles about 40% of Japan's international passenger traffic.

The centrally located Haneda Airport (羽田空港, Haneda Kūkō, HND), which is located in Ota, is the other international airport. Like Narita International, it also handles domestic flights.


What are some of the main cities in Chiba? These are some of the main cities: Chiba, Funabashi, Ichikawa, Matsudo, Kashiwa, Ichihara, Yachiyo, Nagareyama, Narashino, Sakura and Urayasu.

How long does it take to get from Tokyo to Chiba using the train? If you're using Japan Railways train it takes approximately 40 minutes. If you're using the Narita Express it takes approximately 26 minutes. There are other options like bus and cars.


Fun fact: Do you know that most of the peanuts in Japan are grown in Chiba? Once you're visiting Chiba try some that are uniquely prepared by peanut farmers. Preparation methods include baking, steaming, boiling and yes, pickling them.


Best things to do in Chiba City
Chiba Zoological Park
If you plan to spend the day in Chiba there are a lot of activities, things to see and do. If you're an animal lover you should check out the Chiba Zoological Park.

The park is located in Minamotocho, Wakaba Ward, Chiba. The zoo has seven zones, which are the Avian, Aquatic Zone, Ancestors of Domestic Animals Zone, Children's Zoo, Monkey Zone, Small Animals Zone, Steppe Zone and the Zoological Hall.

The park is very spacious as six percent of Chiba's prefecture land area is designated for natural parks. This of course allows the Chiba Zoological Park to provide a spacious home for its inhabitants.

To get to the park you can take the Chiba Monorail and exit at Dobutsukoen Station, which is a direct stop to the zoo. Please note that the zoo is closed on Mondays except if Monday is a public holiday. The parks opening hours are from 9:30am to 4:30pm.

City Folk Museum/Chiba Castle
If you're interested in the culture, local heritage, history and architecture of the region you must visit the Chiba City Folk Museum, which is also popularly know as the Chiba Castle.

The museum is located in Inohana, Chuo-ku Chiba City, Chiba and you can get to it by taking a train from the JR Chiba Station. The opening hours of the museum are 9:00am to 5:00pm.

Makuhari Messe
If you're visiting Tokyo for Olympics 2020, then you will want to check out Makuhari Messe, which is the venue for the fencing, taekwondo and wrestling events during the 2020 Summer Olympics.

The convention center is one of the largest in Japan and is host to a number of events including concerts, business conferences and trade shows.

The center is located at Mihama-ku, Chiba City, Chiba Prefecture and you can get to it via a short walk from the Kaihin Makuhari Station on the JR Keiyo and JR Musashino Lines. At the venue you will find several restaurants as well as free Wi-fi.

You can also check out Japanese Garden Mihama-en and Chiba Prefectural Makuhari Seaside Park which are close by.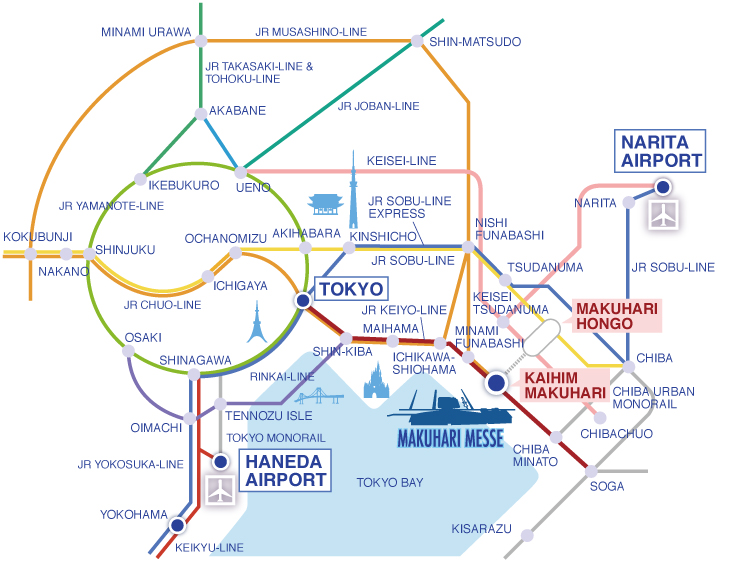 Inage Seaside Park
If you want to get away from the city and spend the day with your family or even alone, then the Inage Seaside Park might be the ideal spot for you.

The park, which is located in Takahama, Mihama Ward Chiba features a waterfront, flower museum, swimming pool, exercise facility and a yacht harbor.

You can get to Inage Seaside Park using the Keiyo Line, and from Inagekaigan Station, which takes about 20 minutes.

Forest Adventure Tarzania
If you're looking for fun and adventure you can check out Forest Adventure Tarzania. It's and adventure park in the forest featuring zip lines and other aerial obstacle courses. You will find sport facilities as well as eateries at the park, which is located 1067 Misho, Nagara, Chōsei District, Chiba.


Chiba Prefecture Tours
If you're visiting Chiba, you might want to check out some of these interesting tours.
Experience a private Japanese traditional kaiseki dinner with Geisha at a popular Takaraya Restaurant located in a small town in Chiba.

This program includes a special VIP access to a private room at this famous traditional...
---
Major destinations, such as Tokyo Nagoya and Osaka are of course enjoyable. But, recently those major destinations are always busy and you may feel a bit of tiredness.
This tour is recommended when you feel that way!
---
The Chiba Prefecture is known for being home to Narita International Airport, but there's far more to discover in this area, such as shrines, castles, and historical landmarks.

Take the stress out of navigating by opting for...
---
Check Out Our "Ha! In Your Face Bitcoin Haters" Merchandise
Our "Ha! In Your Face Bitcoin Haters" design are available on clothing and home decor products including, t-shirts, hoodies, tank tops, sweatshirts, sleeveless tops, laptop skin, laptop sleeve, iPad skins, coffee mugs, kitchen aprons, and much more.
Best things to do in Funabashi
If you're heading to Funabashi it takes between 45 minutes to one hour and fifteen minutes to get there depending on which train line you use.

Using the Sobu Line (Rapid) seems to take the shortest time to get there. You can get the train from the Tokyo Station at Narita Airport Terminal 1, or at the Shin-Nihombashi, Bakurochō, Kinshichō, SHIN-KOIWA or Ichikawa Stations along the route.

H.C. Andersen Park
The park features an obstacle course, animals and an art museum. It is split into several zones which are the Fairy Tale Hill Zone, Children's Art Museum Zone, Nature Experience Zone, Castle of Flowers Zone and the Wanpaku Kingdom Park.

The Fairy Tale Hill Zone features the recreated countryside of Denmark, where Danish author Hans Christian Andersen lived in the 1800s. It also features windmills, which are the symbol of the park as well as other plants, flowers and trees.

If you're traveling with your children, then you can have some fun in the Workshop Room at the Children's Art Museum Zone, making works of art or just playing. Visitors can enjoy programs featuring art with textiles, ceramics, dyeing and prints.

The Nature Experience Zone, as the name implies, is for those who enjoy and love nature. The area, which takes advantage of the woodlands and wetlands, feature a walk path which winds around a waterfront. You will find wetland plants, an area with rice terraces and other interesting elements of the woodlands.

The Castle of Flowers Zone has over 50,000 flowers from over 100 different species and is a must see during the different seasons. Look out for the Garden of Four Seasons where you can relax and enjoy the many different types of flowers.


Children can enjoy the "Kid's Garden" which features a playground with equipment based on Hans Christian Andersen fairy tales or relax in the dual nursing room and rest area.

The Wanpaku Kingdom Park is designed for fun. You and your children can run around, get a ride on a pony, visit the small petting zoo, play miniature golf or ride the mini train.

If you are looking for more excitement you can have fun at one of Japan's largest obstacle courses or ride one of the wacky bicycles.

The park is located at 525 Kanehoricho, Funabashi, Chiba 274-0054 and its opening hours are from 9:30 am to 7:00 pm. It is closed on Mondays.
Funabashi Sanbanze Seaside Park
Funabashi Sanbanze Seaside Park is the place to visit if you want to spend the day outside enjoying the seaside. You can enjoy digging for clams if you're visiting around April to mid-June.
The park features other leisure activities including barbecue areas, tennis courts and baseball fields. It is also known as a bird-watching spot.
The barbecue facilities are quite interesting. All you do is make a reservation and choose one of three plans, which are rental of equipment only, a plan including food, and a plan where you do just preparation and cleanup.
You can also check out the Funabashi Sanbanze Museum of Environment and learn about nature and the environment in this museum which has three different zones, Know, Think and Learn.
Entrance to the park, which is
located at 40 Shiomicho, Funabashi-shi
is free. Opening hours are: 9:oo am to 5:00 pm.
Chiba Prefectural Funabashi Forest Park
If you want to enjoy nature, then the Chiba Prefectural Funabashi Forest Park is the ideal place to check out. The park features sport fields, picnic areas, benches while the forest features cedar, cypress, and zelkova trees.
The 15 hectares park also features barbecue facilities, an obstacle course and a tea making class where you learn to make tea from leaves picked from the forest.
The park, which is
located at 586-2 Ojinbocho, Funabashi-shi
, is a great place to enjoy nature and bird-watching can also be enjoyed there.
Entrance to the park is free, but if you want to use of the barbecue facilities you have to pay a fee. Rates range from ¥300 for the outdoor barbecue, firewood is ¥500, and charcoal ¥500. Yes! Barbecue is a big thing in Japan.
Opening hours during March to October is 9:00 am - 5:00 pm and from November to February it is from 9 am - 4:30 pm.
Religious sites in Funabashi
If you're looking to visit religious sites in Funabashi there are quite a few you can check out. These include the Funabashi Daijingu, Otaki Fudoson Konzoji Temple, Ryogenji Temple and the Funabashi Toshogu Shrine.
Best things to do in Ichikawa
Ichikawa is located about 20 km (12 miles) from the centre of Tokyo. Several train lines serve the traveling public of the city including the JR Sōbu Line, Chūō-Sōbu Line, Musashino Line, Toei Shinjuku Line, Keiyō Line, Keisei Main Line, Tokyo Metro Tōzai Line and the Hokusō Line.

Ichikawa Zoological and Botanical Garden
The zoo features over 60 animal species including red pandas, small-clawed otters, and meerkats.

There are several sections you can check out including the Water-Play Area, Petting Zoo, Small Wild Animal, Birds and Domestic Animal areas.

There is also a museum (Municipal Museum of Natural History in Ichikawa) and a mini train, which is one of the more popular activities at the zoo. Children and adults seem to really enjoy this mini train ride.

The zoo is located at 284 Omachi, Ichikawa 272-0801, Chiba Prefecture and its opening hours are from 9:30 am to 4:30 pm.


Satomi Park
If you love roses and other flowers, then you definitely have to visit Satomi Park. Satomi is an 82 hectares municipal park in Ichikawa City. The park features many cherry trees and roses in its European garden and visitors can enjoy the breathtaking panoramic views of Tokyo, Tokyo Skytree and Mt. Fuji.
Satomi Park is
located at 3-9 Kounodai, Ichikawa, Chiba 272-0827
and is opened throughout the day. It will take you about one hour and twenty minutes from the Tokyo Station to get to the park.
I-Link Town Ichikawa Observatory
From the observatory deck of the I-Link Town Ichikawa you can get one of the most breathtaking view of the
Tokyo Skytree
with the outline of Mount Fuji in the background. This is a great spot to take some amazing photos.
The observation deck is located on the 45th and 46th floors of a residential building, which is about one minute walk from the south exit of Ichikawa Station.
What is amazing is that you can get 360° views of Saitama, Chiba, the Edogawa River and Tokyo as well.
Best things to do in Sakura
Sakura is located about 50 km (31 miles) from Tokyo. It takes about one and a half hours from the Tokyo Station.

Sakura Castle Ruins Park
The National Museum of Japanese History
Botanical Garden of Everyday Life
You can visit these three attractions because they are located next to one another. The Sakura Castle Ruins Park is home to the Sakura Castle. The park is well known as cherry blossom spot in the spring and has been certified as one of Japan's Top 100 Castles.

The National Museum of Japanese History sits adjacent and you can learn about the ancient history and culture of the area. A short walk away and you can also visit the Botanical Garden of Everyday Life.

The National Museum of Japanese History is located at 117 Jonai-cho, Sakura City, Chiba Prefecture 285-8502.
Opening hours are as follows: March through September from 9:30 am to 5:00 pm (entrance closed at 4:30 pm). October through February 9:30 am to 4:30 pm (entrance closed at 4:00 pm) .

The hours for the Botanical Garden of Everyday Life are 9:30 am to 4:30 pm (entrance closed at 4:00 pm).

Please note that the video is narrated in Japanese, but I used it so you can see what the National Museum of Japanese History looks like.


Best things to do in Urayasu
Tokyo DisneySea
Tokyo Disney Resort
Tokyo Disneylanda
If you're traveling with kids or you're a kid at heart and a fan of marine life then you will not want to miss a visit to Tokyo DisneySea. The amusement park is located at 1-1 3 Maihama, Urayasu, Chiba 279-0031, in the same location as the Tokyo Disney Resort and Tokyo Disneyland.


How do you get to Tokyo Disney Resort? Firstly, you get off at Maihama Station on JR (Japan Railway) Keiyo Line / Musashino Line.You should note that Maihama Station is about 15 minutes by train from Tokyo Station. Also, buses from airports and major train stations to Tokyo Disneyland and Tokyo DisneySea are available.
If you don't understand have a look at this video on how to get to Tokyo Disney Resort. chiba-prefecture-japan.jpg
Have you ever visited Chiba Prefecture in Japan? We would love to hear about your experience.
SHARE IF YOU LIKE.
⬇
You may also like: