Utterly amazed by Los Tres Ojos thrilled by Santo Domingo
Updated February 18th, 2021. Original: February 1st, 2017, Posted by travelwith2ofus
Tweet

🔽 DEAL ALERT!
Get up to 20% off selected hotels!


The Dominican Republic has been on Nikki's wish-list for the longest while. The Municipality of Punta Cana, in particular, is her destination of choice, so when she saw that our cruise was making two stops in the Dominican Republic, she was thrilled, even though it did not include a visit to Punta Cana.

We visited Santo Domingo and then Catalina Island (Isla Catalina), a small island about one and a half miles from the Dominican Republic's mainland. The other Islands we visited on this trip included Antigua and Barbuda, Martinique, Guadeloupe and St Maarten.

We arrived at the capital Santo Domingo, on Sunday, December 18th, and we thought there would not be a lot of stuff to do. We thought the city would probably be quiet, but we were wrong. The cruise complex was buzzing with activities as fellow cruisers disembarked the ship.

The Dominican Republic was our first stop on this cruise, and we awoke already docked in the capital city of Santo Domingo. We were amazed at the first look we got at Santo Domingo because the sun was now rising, and its golden rays kissed the city and presented it majestically.


Caribbean Proud Apparel And Home Decor
Our "Caribbean Proud" design is available on clothing and home decor products including, t-shirts, hoodies, tank tops, sweatshirts, sleeveless tops, laptop skin, laptop sleeve, iPad skins, coffee mugs, kitchen aprons, and much more.
Pleasantly surprised and Antonio de Montesino
We did not know what to expect in Santo Domingo, but we were pleasantly surprised. It's beautiful colonial architecture mixed with the modern structures added to the quaintness of the place.
We could see the statue of Antonio de Montesino watching over the city. Antonio is said to have spoken out about the oppressive treatment of the indigenous Taíno Indians and this led to the passing of Law of Burgos in 1512, which changed how indigenous people were treated.
What are we to do in Santo Domingo?
We looked at so many activities to do in Dominican Republic, but we found a lot of them to be a bit boring. Nikks came up with the suggestions that we visit The Three Eyes National Park (Los Tres Ojos). I did not know what it was and what to expect.
When you think about a park this is not what you would expect. It is amazing and we have not seen anything like it since we started traveling. It is located in the municipality of Santo Domingo Este and consists of underground limestone caves, clear water lagoons, wildlife and a lot of tropical flora and fauna, but more about that in a bit.
After a delightful breakfast, we gathered ourselves and headed to explore the city. We did not have much of a plan, except we knew we wanted to visit Los Tres Ojos. We found a taxi outside the cruise complex quite easily. The driver spoke enough English so that we could explain where we wanted to go and what we wanted to do.
While we were being driven to Los Tres Ojos we thought about taking a trip to Punta Cana, but when we found out the time it would take, about four hours, and the cost, between US$135 to $200 return, we dismissed the idea immediately. It costs us US$16 for both of us to get to Three Eyes National Park. We later found out that the cheapest way to get to Punta Cana is by using the Bavaro Express bus. It costs US$10 one way.
Santo Domingo Tours

There are many exciting tours you can do in Santo Domingo. Check out some of these tours.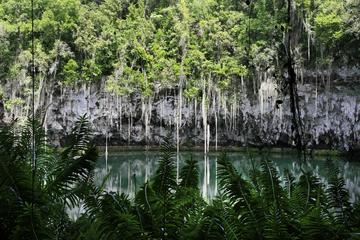 Visit two of Santo Domingo Este's most popular attractions on this 3-hour morning tour. Faro a Colón (Columbus Lighthouse), Then Parque Los Tres Ojos (Three Eyes Park).
---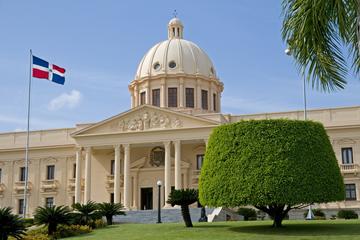 Get an overview of Santo Domingo — the capital of the Dominican Republic — on this 4-hour city sightseeing tour. The oldest European-settled city in the Western Hemisphere...
---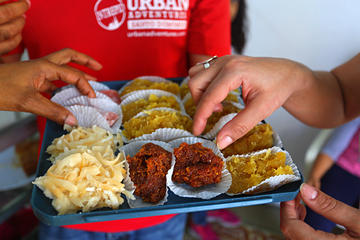 Get to know the real Dominican Republic by spending a day exploring its culturally rich capital and discovering the Santo Domingo that locals love. Soak up the city's...
---
Let us explore Los Tres Ojos (Three Eyes Park)
We arrived at the park and were greeted by a gentleman offering to be our guide. He said he would do it for US$35. While
Nikks
was entertaining the offer, I did not. I told her we should explore on our own, which we eventually did.
Now if you prefer to get detailed information and the history of the park it might be a good idea to get a tour guide if you don't mind spending the money. You should definitely negotiate with these guys. While we were outside one guy offered the tour for US$35, when we got inside the park another offered it for US$25. So don't rush to choose a guide if that is the route you want to take.
The entrance fee to the park is a little over US two dollars. When you enter the park the first thing you notice is a collection of interesting sculptures and if you are not very observant you will definitely miss the entrance tunnel to access all four lakes. Yes, four.
The main three are Lago de Azufre, Lago La Nevera, and El Lago de las Damas, which make up Los Tres Ojos. You have a take a box boat from Lago La Nevera to get to the fourth lake, which is named Zaramagullones.
Lago de Azufre took our breath away
As we walked down the dark, winding stairs with heightened curiosity we saw a light, which was provided by a huge opening above the lake at Lago de Azufre. It is really a sight to behold. The rays of the shining sun on the blue waters of the lake literally and collectively took our breath away. You just have to be there to witness its splendor to understand.
After spending some time, you know, taking photos and selfies and such, we headed to the next lake, which was Lago de las Damas. This one in my opinion, while its pool was beautiful, it was not as breathtaking as the Lago de Azufre. Now don't get me wrong, it is indeed worth a visit.
Zaramagullones blew us away as well
We headed to the third lake, Lago La Nevera. The first thing we noticed was how beautiful it was. While it is a bit dark, when you get closer you can see its full beauty. This lake is the one where you take the pulley box boat to get across to a fourth lake, which is not considered part of Los Tres Ojos.

There is a small fee of US one dollar and it is definitely worth it. Zaramagullones blew us away. I thought it was more amazing than Lago de Azufre. It has everything from tropical trees and fish, beautiful turquoise waters and amazing limestone caves. You just have to see it for yourself to believe it. So after spending the most time in Zaramagullones we made the trek back to the top.


refreshments, Merengue and relaxing
After we arrived back to the top level of the park, we decided we would take a little break and have some refreshments. There is a café on the compound that serves alcohol and non-alcoholic drinks as well as snacks. There are also other cafes that sell local food.

We decided we would try some of the local rum. We were relaxed, enjoying the atmosphere and the Merengue and Bachata music blasting from the café we purchased our beverages. We contemplated taking a tour downtown Santo Domingo, but when we looked at the time we realized it was not feasible.

We had a wonderful time in Santo Domingo even though we did not get the see as much of the city as we would of liked, but visiting Los Tres Ojos, relaxing, and enjoying the Dominican Republic atmosphere made up for that. See you again Dom Republic.


If you are visiting Santo Domingo in the Dominican Republic remember:
Their currency is the Dominican Peso. They speak Spanish, but English-speaking locals are not difficult to find. They accept US dollars, but ATM's only dispense Dominican Pesos. There is a limit of 10000 pesos per day, which is about US$ 200. Also, walk with your sunscreen lotion because the sun is hot.



Click here to watch this video on our visit to the Dominican Republic, Santo Domingo and Los Tres Ojos on YouTube

Click here to watch the video on our visit to Antigua and Barbuda, Long Bay Beach and Stingray City on Youtube
Have you ever visited Santo Domingo? Let us know what you thought about the city.


You may also like:

FASHION