10 Interesting Things To Do In St Lucia
Updated July 18th, 2019, Posted by travelwith2ofus

Tweet

🔽 DEAL ALERT!
Get up to 20% off selected hotels!


Hi there! Just so you know. This page contains links to product and services from one or more of our affiliates. Please note that we may receive compensation when you click on links to those products and services.

So you plan to visit St Lucia. You have never been to the Caribbean so you are wondering what you can do beside take in the sunshine and the beautiful beaches.
Her is a list of 10 things you can do in St Lucia ...
You can also check out: Have Fun At St Lucia's Beaches, The Pitons And Marigot Bay.


Culture tour
1. If you are interested in culture there is a lot for you to do in St Lucia. You can visit the Folk Research Center (FRC). The center was established in 1973 to do research, document and display the cultural heritage of St Lucia.

The center is located in Mount Pleasant, Castries and is open Monday to Friday from 8:30 am to 4:30 pm. Some of the highlights at the center include its extensive library of publications, audiovisual recordings, photographs and videos of St Lucia's folk culture.

According to the FRC website the main objectives of the Folk Research Centre are:
a. To promote research into Saint Lucia's culture;

b. Explore and clarify the role of culture in the development of our people;

c. Contribute to the cultural development of our people
You can contact the center at Phone: + (758) 452-2279/(758) 453-1477


Nature tour
2. If you like nature you can do the Gros Piton Nature Trail. We know you're on vacation and want to take it easy, but this trail is fairly easy and at most a moderate hike.

Beside getting in some exercise you will also learn about some of the many plants and their uses including health benefits and otherwise, as well as the history and culture of the village surrounding.

An added bonus on the hike is the breathtaking view of St. Lucia's Gros Piton, which is part of Saint Lucia's only UNESCO World Heritage Site.
The Soufriere Regional Development Foundation (SRDF) manages the Tet Paul Nature Trail with the support of the Tet Paul and Chateau Belair Tourism Association.

You can contact the SRDF at Phone: + (758) 459 -3965 / 285 7431


Diving
3. If you are into diving or want to learn then there are lots of options for you. Many of the dive operators in St Lucia offer courses geared towards the beginner straight up to the advanced certification.

St Lucia has a number of breathtaking dive sites filled with exotic sea wildlife.
For a list of dive operators you can visit St Lucia Now.

There are many dive sites in St Lucia including Anse La Raye Wall, Superman's Flight, Bone Yard, Bird's Rock, Smugglers Cove, The Blue Hole, Coral Gardens Anse Couchon, Turtle Reef and Pigeon Point.
Sulphur Springs
4. If you want to try something new, you can visit the Sulphur Springs and take a mud bath in the bubbling ponds of Soufriere sulphur springs. It is described as the only drive in volcano in the world.

According to local legend, it will make you look and feel younger. You can also purchase sulphur blocks at the site in case you believe in its benefits.

You can contact the SRDF at Phone: + (758) 720 -1779 / 459 7200/1
Or visit their website Soufriere Regional Development Foundation.


Zip Line
5. For the more adventurous among us you can do a Zip Line tour through the forest.
We actually did the Adrena-Line Canopy Zip Line Tour. It is actually advertised as being not for the faint of heart.
Starts with a leisurely stroll through the rainforest and then you encounter the Floating Stairs, Eagle's Claw and canopy from tree to tree with 18 platforms. Must admit it was exciting.

▸ Wet and Wild Experience Saint Lucia
6. This tour combines a catamaran sail with an off-road buggy adventure on this full-day in St. Lucia.

Depart Castries on a catamaran cruise, then transfer to a buggy in Soufriere for a drive with views of the towering Pitons.

Slather yourself in therapeutic mud in Sulphur Springs and visit the drive-in volcano before a trip to Toraille Waterfall and lunch at a local plantation. 

You can find out more about this tour here.


If you plan to visit St Lucia you have three resort options from Sandals.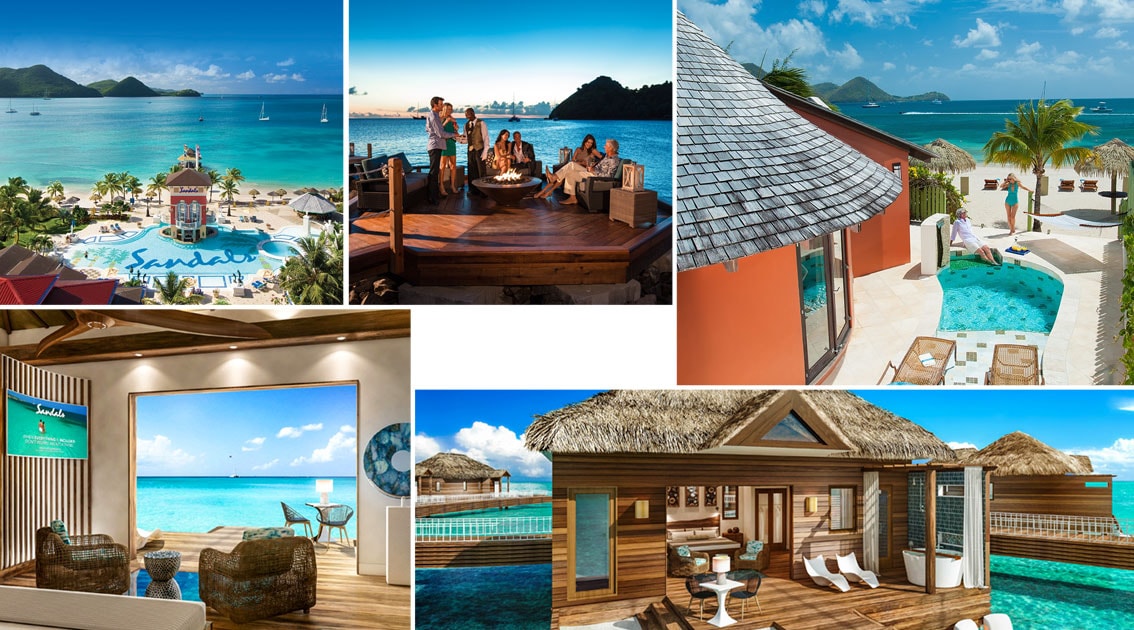 Pigeon Island tour
7. If you are interested in serene beaches, some history and a fun day out, a visit to Pigeon Island should definitely be on the cards.
The Island actually has an interesting history. It was once inhabited by Amerindians then occupied by French Pirates.
Pigeon Island is a National landmark and encompasses two private beaches, Amerindian caves and amazing panoramic views of Fort Rodney and Signal Peak of Saint Lucia's northern coastline.

You can contact the Saint Lucia National Trust at Phone: + (758) 452-5005
Or visit their website Saint Lucia National Trust.


Wind and kite surfing
8. If windsurfing &  Kitesurfing is your thing or maybe you want to experience it for the first time then you are also covered.
The Reef Kite & Surf, Anse de Sables Beach will get you started if you are a beginner or facilitate you if you have done it before and consider yourself an expert.
Novices can learn the basics in courses of 6 to 10 hours. They start with an introduction to power-kite flying to get used to the kite`s pull an the technique of steering it.

You can contact The Reef Kite & Surf at Phone: + (758) 454-3418
Or visit their website here.
▸ Site seeing, snorkeling and fishing
9. We at Salty Boat have dedicated ourselves to provide you with the best experiences in St. Lucia. Not get bind by the tours having fixed hours and limited opportunity where you can't express yourself to the fullest.

Here you get the opportunity to enjoy your personal small group tour with your family or loved ones with our exclusive private boat charter in St. Lucia ready to welcome you.

St Lucia, the Helen of West Indies! The only sovereign nation to be named for a woman! A tropical escape full of natural beauty, rich history, and pure romance ...


10. If you love horses, or you have always wanted to ride one, well then you can get it done in St Lucia. What makes it even more excited is you get to ride the horse in the sea.
Nikks and I did it during or last visit to St Lucia. We went through farmland, pastures and hills to the Atlantic Ocean. When we get to the beach we removed the saddles and rode our horse directly into the ocean. It was fun!


If want to have a similar experience you can book a Horseback Ride 'n' Swim St. Lucia tour.